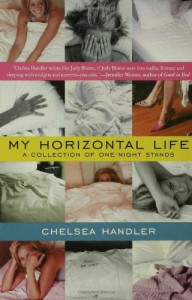 Fact: I watch Chelsea Lately almost every night
This book is completely hilarious. I liked this one even better than her newer one. I'm writing a book on my dating stories and I feel like it is going to end up being compared to this book because some of the stories are pretty similar, lol. I haven't sad a one night stand but I do have some funny stories.
This was easy reading but every now and then you need some of that right? All the stories were funny so I don't know if I could really pick a favorite. Again because of my love of New Jersey I really loved the parts about the Jersey Shore boys.